Today I bring you one of the most fascinating writers I know and a man I am very proud to call a dear friend. He's a wonderful supporter of indie writers of all genres and well-versed in the process of taking many stories from their inception to completed works. Readers and writers alike will find his thoughts here insightful and profound.
With the ability to crawl into the dark recesses your mind, David DeWinter comes to us from Cardiff, Wales where he creates some of the most spine-tingling, thought-provoking twisted tales. There is no doubt that Mr. DeWinter will be moving up the ranks in dark and chilling fiction very quickly. You heard it here first, folks!
Now, I give you – mwahaha! – the incomparable David DeWinter…

What is your favourite genre to read? What moves you about the preferred subject/authors?
I do love general fiction. I guess I have a leaning towards horror and the murky psychological type stories, at least to write. Always loved the likes of Stephen King and Clive Barker, Peter Straub, but as the years have gone on, I can pick up any genre, really, and get something out of it. Enjoy Neil Gaiman and am also prone to a little Isaac Asimov and some science fiction generally.
For those preferred authors, it was the element of the forbidden as a child, with authors like Stephen King. In quite a restrictive surrounding as a kid in terms of imagination, I was drawn to writers who could create new worlds or ideas. Lord of the Rings, like countless others, was also a wonderful eye opener and stepping stone into bigger worlds and was so important in firing up my imagination.
When did you decide that you wanted to publish your writing?
I didn't really start writing until around 2010, and even then it was on and off. It's only since 2019 that I've upped it and in the background the desire to publish has always been there, but now I have the actual work to support that wish.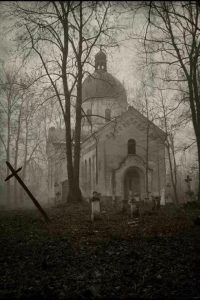 Have you always known that horror was the right direction for you?
It's a big part of what I do. As mentioned a little earlier, horror was forbidden in my youth (I was brought up in a cult religion where demonic possession was a real fear), so naturally I was drawn to it as a result! Upon exploring it further, I fell in love with the genre. I can remember reading The Exorcist, sweating, shaking at times, unable to sleep, convinced due to the beliefs of those around me…that I would be at risk of possession. But I wanted to break that barrier and the fear instilled in me, so upon reading it in full and surviving, the floodgates were open to that genre. And as far as I know, I remain demon-free, excluding the cat. Though she's just a diva with mild demonic tendencies.
When you include elements of dark humour, does this require a different headspace than writing a chilling tale without the humour?
Ooh, that's a good question. Sometimes I feel it can happen naturally. Even in the darkest moments in life we find humour, so it's no different in written horror. I do get frustrated with myself though. I love comedy. Am quite a snob about it and a little obsessive with certain comedies from Alan Partridge, League of Gentleman to South Park or Rick & Morty. I make a racket with daft voices and impressions or on-the-spot sketches with a mate or my long-suffering partner…but the moment I think 'I'll write this down,' it just comes out poorly.
Certain writers or comedians are heroes in a sense – Armando Iannucci, Stewart Lee, Steve Coogan or Chris Morris to name but a few – so I would dearly love to write full-on comedies, but I find myself tongue tied and terrified for reasons I can't fathom. I did manage one comedy, Escaping Aberwhere, but that is it to date, although The Library Book Thieves is really just a joke disguised as a story.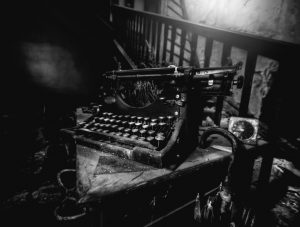 What are your thoughts on writer's block?
I've been extremely lucky in that I don't tend to have it, which will make me popular I'm sure as your readers think, 'what a …' Other than with comedy, though that is just blind panic. I find what stops me from writing tends to be more me – laziness, lack of focus or just a state of mind more than having no words. I feel I know if a story has something and can't leave it be, so I write it when it demands it of me until completion. Any struggles mid story, a hurdle, I can step away and an answer will often arrive without too much stress. Beyond that, I think it's perseverance if in a writing session. Don't stress some of the nonsense written as nobody else is
going to see it. Get it down and even from dirge can something wonderful arrive. I just know there will be a time when I get it – probably after this interview now that I've tempted it. Leave me be writer's block!
Besides your soon-to-be-published novel, which piece are you most proud of?
Well, firstly I hope it does get published as I whittle through endless edits! But in terms of most proud, I'm not sure, but I think the one that sticks out to me is In the Lavender Sea. I just felt happy with it upon completion, content, the only time that has happened! I also cried writing it, which was rare for me. Even though it was a short story, I really got swept up with the characters and their difficult, complicated relationship. When then it became part of the Storytime for Grownups series, beautifully narrated by Jacqueline Bell, it added a new voice to my own words which was a wacky and wonderful new experience. That provided a real boost and confidence to keep writing and doing more.
What is your publishing plan?
It's in operation as we speak. First I need to finish my edits on the book. It's rather big at the moment with 118,000 words, so the first edits will take time and then onto the next phases. Meanwhile, I am collating lists of publishers and have queried a few already, while making cunning use of a spreadsheet and tracking every move I make in this respect (including responses, dates sent, mistakes made in submission, etc.). I'm something of a mess at times, so keeping organized and a track of things around my writing is really helping a clearer mind. I also am on the potential lookout for an agent with so much work to manage now. If the tradition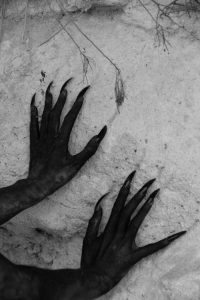 al publishing route doesn't work out, then self-publishing is most definitely an option and one I'm keeping an eye on.
Is there anything specific you hope to accomplish with your writing?
Just to reach people, for something to resonate with them. I love the concept of planting strong ideas or characters in the minds of readers, something that echoes or gives them a chill from out of nowhere sometime after reading. I think we can all take for granted the works of others, how they infiltrate our thinking and even our way of life sometimes, so I'd love, in a positive sense, to have that sort of impact on someone, somewhere, somehow…sorry, I burst into song. To date, I've been blown away by feedback from subscribers and regular readers. It is still a novelty to me that I have readers, so the fact people take time to even read my stories or works, never mind message me about it with elements they've enjoyed, well, it makes it all worth it.
Tell us a secret about David DeWinter!
When I was a kid, I used to sing in musicals and was Oliver Twist in one, a 'season' in another and had a nice little singing voice…until it broke. I now sound like a small boy trapped in a greenhouse.
David's links:
In the Lavender Sea – narrated by Jacqueline Bell
Immortal Lust – narrated by Jacqueline Bell