This month, I am very happy to bring you an interview with the quirky and talented John Prather. His latest book launched at the beginning of this month, and it comes as no surprise to me that it's already receiving rave reviews.
John's adventurous spirit gives way to witty tales of satire that will leave you asking, "What's he writing next?" Well, you heard it here first! Keep an eye on this one – you never know where he'll pop up. He's also a strikingly humble and refreshingly open personality, so feel free to reach out to him in the comments or track him down via his provided links.

Let's start by finding out a little about your journey to become a published author. When did you know you wanted to write professionally and what was the catalyst that made you take the leap?
As a kid, I occasionally wrote skits and short stories for class. During this time, there was an amazing show called Wallace & Ladmo on local TV in Phoenix. It's the longest-running locally produced children's program in history, and Pat McMahon created dozens of wacky characters. I had the honor of discussing my novel on Pat's podcast The God Show in April, at which time I finally realized his impact on my love for characters and storytelling. In high school, I was allowed to write my own original, wacky dialogs in Spanish class rather than using the boring ones from the textbook. So all this time I think I was subconsciously learning how much I enjoyed the creative process.
But it didn't really click until college, when I played on a softball team with a bunch of local journalists, including the film critic for the Arizona Republic. That got me started taking whatever film classes were available at Arizona State University (not many) and convinced me to pursue a master's degree in screenwriting.
Congratulations on your latest release – The Jesus Nut. Tell us a little about the story and what we can expect from it.
The idea for the novel began from the title. When I first heard the term, I said, "That would make a great title. I have no idea what it'll be about, but some day I'm going to write a book with that title." From that, I began to think about various iterations of the term "Jesus nut" — who or what could it refer to? — and pieced together the skeleton of a story. But I carried it for 13 years before I finally sat down to write it, and I still wasn't sure what I had (besides a cool premise) until it developed before my eyes.
The Jesus Nut is the story of three characters, each a misfit in some way, who take a life-changing pilgrimage in pursuit of a rather bizarre relic. Dr. Haley Berkshire is a professor of religion who has rejected all religious belief systems. She's roundly criticized for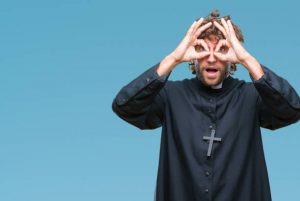 previous absurd research findings, so her claim of discovering evidence of this relic is dismissed as lunacy. Jesse Morales is a homeless man living in the alleys of Venice Beach, California. He thinks he is the Second Coming of Christ, but of course everyone else just thinks he's crazy. Father Brian William Callum Robert O'Shea (named for a good friend Brian who died too soon of cancer, and his three sons) is a priest who enjoys going to strip clubs, where he becomes enamored with one dancer in particular. Nikki, you ever have a priest as one of your regulars?
[
Nikki note:
John is referring to my years as an exotic dancer, and no, I can't say that I ever had a priest as a customer. The closest I ever came was a mortician who used to come see me after he had a bad day. A ball of laughs he was not!]
For their own unique reasons, each decides to pursue this relic. The first fifteen chapters tell parallel stories of their individual journeys, then they meet in chapter 16 and work together.
The book is laugh-out-loud funny (lots of people have texted me to tell me they are "cracking up") and satirizes the hypocrisy of the evangelical movement. It touches on a number of current issues including homelessness, same-sex marriage, priestly celibacy, and more. Yet it's also a sweet story of friendship and redemption.
Both of your releases so far, The Adminisphere and The Jesus Nut, lean satirical. Do you think your writing will always follow that path or are you planning to branch away from it at some point?
I have several other stories in my head that are not satirical, but I'm really drawn to satire. First, I love the irony, the turn of phrase, and the funny dialog or description that carries with a more serious subtext. Second, there are so many more people and institutions that need skewering. To be honest, I'm not sure what's next for me, but even if I branch away from satire, I have no doubt it will continue to beckon me home.
As an author, what have you learned from your publishing experiences?
Writing can be a magical, wonderful experience. Publishing, on the other hand, can be a truly disheartening one.
Some authors — you, among them — have found a comfortable niche and developed a great support network to be able to self-publish, and you certainly produced a quality product with Acts of Closure. But I was determined to place The Jesus Nut with a Big Five publisher. Thus, I spent a year querying agents while I revised my manuscript, sending a total of exactly 400 queries. Since I don't write about magical children, mythic creatures, wizards, or time travel, I effectively eliminated half the agents before I even began the
process. And since I write satire and this book has a strange and even controversial premise, I eliminated many more. Moreover, the agent is supposed to work for the writer, but for a new writer, that's false. The agent has all the power, and many yield it in the most efficient but demoralizing manner possible — "No response means no." Thus, a querying writer better have an endless supply of hope and an infinite capacity to accept being ignored. There were times last summer when I was really at my depths, having written what I (and others) believed was a great novel but getting no response.
I ended up publishing with Atmosphere Press, which fell short of the goal but allows me to see my novel in print and to see readers positively impacted by both its humor and its message.
Ultimately, a writer must write for him/herself. He/she must write not for the money or accolades, but because the subject is important to him/her and the process of writing about it is liberating and worthwhile in its own right.
In addition to novels, you've also tried your hand at screenwriting. How does that creative process differ from writing a book?
As far as ideas go, for me at least, there's no difference. I think I've always seen stories through the lens of film, so to speak, so my stories tend to be fast-moving and visual. I wouldn't — and probably couldn't — write some talky drama in which the characters are all trying to sort through their angst. That might make a great novel in someone else's hands but would be an absolute catastrophe in mine, and certainly a challenging screenplay for any screenwriter.
Screenplays have a more rigid structure, with "plot points" at one-quarter and three-quarters. Watch a film with a stopwatch and you'll see how closely most adhere to this formula. It's really just a simplification of Joseph Campbell's Hero's Journey, but it's pretty much mandatory. Novels, it seems, can play a little more fast-and-loose with how they portray the same journey.
Also, screenplays are much more pared down, focusing mostly on action and dialog. A screenwriter should never tell an actor how to read a line or convey an emotion, or a director how to frame a shot, or a set designer what color the chair is. This actually illustrates one of my biggest challenges as a novelist. I occasionally write pages of dialog and then have to reconstruct the scene in my head so that I can add the necessary visuals to make it work for a reader.
When it comes to any type of creative process, what would you say is your biggest challenge to overcome?
Self-discipline, for sure. I love everything about writing — the pursuit of the perfect sentence, the joy of writing authentic dialog that sings or makes the reader laugh, the creation of an original metaphor, character motivation, structure, editing, even the minutiae of proofreading. I love it all.
People think I'm an obsessive-compulsive personality because of my success as a distance runner, which was based upon the daily grind of hard work. But, in fact, I'm more impulsive, and my training regimen was because I wanted to be good and knew that would require daily commitment. It wasn't something I felt compelled to do; it was something I wanted to do in order to achieve my desired result. (Note: I still fell short.) My point, though, is that the same holds true for my writing. Once I get going, I'm focused on the goal and I'm all in. Unfortunately, though, I too often let life get in the way, which keeps me from being one of those people who write 500 words every day of their lives.
As a writer, where do you see yourself in five years?
Probably trying to figure out what I want to write next. I have so many story ideas I want to pursue.
My next project is the screenplay of The Jesus Nut, and I'd like to think that in five years I'll have a couple of screenwriting credits under my belt, and maybe another novel or two. So much of this is out of my hands, though. There are great screenplays not being produced and derivative garbage getting the green light, so who knows?
I'm getting ankle fusion surgery in late June, which means 12 weeks of down time during which I should be able to write every day since I cannot do much else. And then we'll do the other ankle this winter, so another 12 weeks. Whatever success I have with The Jesus Nut and what I produce during these two convalescent periods might have something to do with where I am in five years. Heck, in 2026 I might be living in Portugal, eating ananás dos Açores, and writing copy for the local chamber of commerce.
For sure, it would be nice to say that in five years I see myself as a darling of the literary world, having enraptured my legion of adoring fans with award-winning and critically acclaimed satirical tales. And that's a worthy goal. Let's face it, though — I will be happy if I'm writing, and if I'm still capable of sitting at a keyboard for more than a few minutes without having to pee.
Do you have a message for your fans?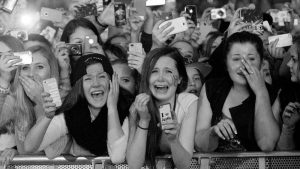 I have fans? Who? Where? Call me!
Also, thank you. The fact that anyone would enjoy something I create is humbling and gratifying.
Tell us a secret about John Prather!
I have crushes on Marisa Tomei and Liz Phair. I even sent Liz a copy of my novel.
Links
Book Life – Publisher's Weekly