When most writers begin their journey, I believe it is with mixed goals. First and foremost we have a story that needs to be told. From there, it branches out into a variety of daydreams ranging from seeing our books on a bookstore shelf to Hollywood calling to tell us our story is going to be next year's summer blockbuster. In between all that, we spend most of our time just hoping someone will read it. And get where we're coming from.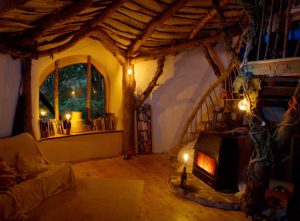 On the occasions we keep our wild imaginations planted firmly in reality, we see our nocturnal selves growing old in a book-strewn cottage, heading into our golden years being the eccentric lady or gentleman of the neighborhood, still sleeping by day and writing via candlelight through the night. Surrounded by cats and our quirky music collections, we make a few bucks here and there when a book sells on Amazon.
We keep our lofty visions in check and settle in to the joy we'll feel knowing we have published and will, therefore, live on. Hollywood never called. Barnes and Noble didn't book us on a multi-city signing tour. The accolades in the form of mantles adorned with statues and gilded-framed certificates…the ones we didn't really need to validate our authorship…were elusive.
Or were they?
Well, I am incredibly proud to announce to you that I have received that first piece of validation in the form of an award of the highest honor. The illustrious ceremony in question had slipped my mind because I never expected to be on the short list of awardees, so when a friend reached out to tell me I had been named, I sat staring at the message in disbelief.
Me?? He must be wrong!
I fumbled to bring up the webpage I needed to see in order to confirm he was mistaken. But there it was. The second award of the evening. My name in lights.
I was shocked.
I had stayed home in my pajamas, drowning in keto-friendly ice cream, tearfully lost in The Way We Were, with my cat dutifully comforting me, only to find out I should have gone to the dance after all!
I checked. And double checked. It was confirmed – my name was on the certificate. And it was a such a beautiful certificate!
A sliver of reality set in and I launched pussy off my lap to scurry to my office. While I was sure the physical honor would be arriving on my doorstep any day via bonded courier, I needed to print it right then and there. To hold it in my hands and bask in the glory.
I was glowing.
With this monumental token in hand, I hurried back to my living room and proudly presented my paper trophy to the pets. The cat had disappeared. Inglorious bastard. That was okay – I still had the dogs to cheer for me.
Sadie snored. With nary a glance, Lucky chewed his bone. To hell with them!
(Moment of truth: That keto ice cream I mentioned earlier was really a bottle of
wine. Okay, fine – two bottles. Don't judge me!)
I stumbled to the kitchen to find my phone. I needed Amazon right now. I needed a frame…right now! What if my esteemed courier took longer than Prime delivery? No, no, that wouldn't do. This had to be framed ASAP.
While I searched for just the right adornment for my prestigious honor, I glanced at the paper sitting on the counter. My blurry vision confirmed that it was definitely for me.
It flashed back at me the two words I never expected to see in a positive light from a panel of my peers – Nikki Twisted.
Going through life feeling that I was always the black sheep, the red-headed step child…too far left of center to really be anyone's cup of tea…and here I was being applauded for exactly that.
Rest assured that when the frame arrives, I will be out in my garage digging through old boxes looking for a beloved 80s gadget. It shouldn't take me long to turn the plain border I ordered into a bedazzled masterpiece, perfectly embellished for housing my first award as a writer.
With all the exuberant joy of receiving a fragile, lovingly-crated leg lamp during the height of the Christmas season, I sincerely thank the amazing trio at What the Book? podcast and everyone who voted for this fun #WritingCommunity effort.
After the voting period, WTB graciously presented the following titles on their May 24, 2020 podcast for the 1st Annual Indie Authors, Supporting Indie Authors:
Most Enthusiastic – Maggie Gilewicz

Most Left of Center – Yours truly
Most Ah-ha Moments Given – JayLynn Watkins

Most Likely to Shock – Novyl
Best Person for Advice – TT Banks
Most Sarcastic – Janetalia
Firing on All Cylinders – Barry S. Brunswick
Most Tag-Team Player – JM Mills
Most Inspirational – Magnolia
Yakkity Yak – Something to Say – Abby
And the granddaddy of them all – The BOOKER of Season 1 – Rebecca Ridge
What the Book? is a fantastically entertaining and educational podcast that I highly recommend for all writers. Weekly topics bring something to the table for everyone and they often interview some of the #WritingCommunity's most esteemed members. Give it a listen – you won't be disappointed! It can be found on all platforms and their second weekly season is currently in progress.

What the Book? hosts:
My thanks and gratitude again for this and the general love and good times this wonderful community radiates!