I've been seeing a lot of comments lately – here, there, and everywhere – about writers questioning their abilities and struggling to not only get their stories written, but to even get started in the first place. Most people who know me well know that I am extremely proficient in the ancient ways of self-doubt, so for anyone who is holding back due to fear, this one's for you.
You have a story inside you…why aren't you writing it?
This is where we need to begin. If it's a matter of time restrictions or because you're a professional procrastinator, it comes down to making the time. Or reading a different blog to find out how to handle your why-do-today-what-I-can-put-off-til-tomorrow habits. (For those of you who have a time issue, a great place to go is the #5amwritersclub on Twitter. Lots of support there for folks who are fitting in their creative needs around a demanding schedule.)
Okay, so, why are you keeping your story all to yourself? At the very least, you should be sharing it with a Word document for your own reading pleasure.
I'm a firm believer that confidence issues, particularly in the creative world, are common. When it comes to the stories, characters, dialogue, and scenes that we conjure out of thin air, it doesn't take much to feel nervous about committing it to paper. I remember how, when I first started writing Acts of Closure, I was so hesitant to look back at what I wrote because I thought it was going to suck. All by myself, in my office, I was worried about being embarrassed by my own writing. And you know what happened? I read through it anyway…and it did suck! Yes, I said did suck.
It was my first time attempting fiction – what did I expect? What do you expect? All you should be banking on right now is that you're going to write. Get out that first chapter or first poem…don't worry about where it's going to land. It only takes one match to start a wildfire. You are the match.
What's your process?
The word 'process' here encompasses a multitude of things, but they all add up to whatever it is that makes it work for you. Where you write, what time you write, whether or not you use an outline, if you listen to music, if you need total silence, writing pieces as they come to you versus writing from beginning to end… These are all your choices to make and no one else should have an influence on that.
If you're a bibliophile, you're likely already aware that many writers throughout history were known to have some pretty quirky habits when it came to their work. Here's an interesting article that lists several well-known authors and their idiosyncrasies – The Odd Habits and Curious Customs of Famous Writers. 
I'm particularly fond of Victor Hugo's idea to lock his clothes away in the fall of 1830 to prevent himself from going out while he worked to meet a February 1831 deadline for The Hunchback of Notre Dame. (I'm working on a June deadline for Confession, so don't ask me what I'm wearing right now.)
Embrace whatever helps you get the words out, no matter how eccentric or mundane you think it is. Your process is yours and you can do whatever you want with it.
Do you know what you're doing?
Probably not. But don't let having a degree in Underwater Basket Weaving stop you from trying. Just because you didn't major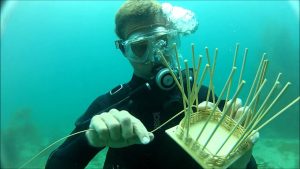 in English Lit with a minor in Creative Writing doesn't mean you can't tell your story. Some of the best writers I know didn't go to school for anything that resembles becoming an author. Hell, some didn't go in for that higher education malarkey at all.
This is why we have editors. If you already know you're shit at comma usage, that can be fixed later. All you need right now is spellcheck and a thesaurus, and you're good to go.
When I first started out, I insisted on writing the entire first draft in email format without indents. Drove my editor crazy. He even reached a point where he said he wouldn't read any more until I fixed it. For some reason, I just couldn't work with it being properly formatted until it was almost ready for the first round of editing. These days, it's a whole different scene and my drafts are in novel formatting from the start. Which brings me to…
Are you ready to just do it?
If you let it, writing can be like dieting. Weird analogy? Nope.
You: I want to write 1,000 words a day. But it's 10:00 at night and I'm tired, so I'll start tomorrow. I have a goal! It's gonna be great!
Next Day You: It's 10 p.m. again and I didn't write anything today. I'll be more disciplined tomorrow and write 2,000 to make up for it.
Third Day You (at, you  guessed it, 10 p.m.): I need a better plan to make this happen. I've already fucked up the first three days of this and I'll never catch up, so I'll prepare and be ready to start this weekend.
And so on and so forth. It happens. Happened to me yesterday. I was supposed to rewrite chapter two of Acts of Confession and I didn't even open the document. Does that mean I have to work on both chapters two and three today? We'll see. Either way, I'll be p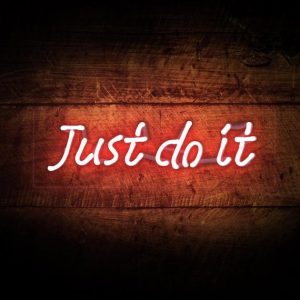 icking myself up and getting back on track.
Life is going to get in the way sometimes, but what you can't do is wait for the perfect mood/time/setting to arrive before you get started. Quite often we're forced to create with chaos going on all around us. We might need to choke out a few words just to remind ourselves that we're working toward a goal.
I've said before that it's important to set realistic milestones. As with the dieting comparison, you want it to be achievable most days. If you're just getting started, set your bar pretty low so you can feel the sense of accomplishment when you hit it. Then increase it from there.
One thing's for sure – writing requires flexibility. If your life is neatly packaged into lists and organized planning, you'll need to recognize that those expectations have no place here. You may find yourself one day writing in the wee hours of the morning and the next day late at night. The time and the drive comes to you on its own schedule. If you ignore it, you'll be frustrated and it will leave.
This really is a case of…just do it.
Do you have a support system?
Yes? Great. No? Getcha one! As soon as possible. Writing can be a lonely place on an emotional level, particularly if anyone in your life is going to get annoyed with their reduced attention while you're busy sleeping less and creating more.
You probably already know that I am a proud member of the Twitter #WritingCommunity and I highly recommend getting involved there, but if Twitter isn't your thing, alliances can be built in many different places. You'll find writers on Facebook and Instagram, but you can also interact with others on blogs (like this one 😁), through workshops, and in online writing groups.
Most indie authors and writers are very approachable – you just need to reach out. The man who is now my business partner and one of my best friends did exactly that over a year ago, and I'm eternally grateful he did. After some interaction about our writing through a Twitter thread, Jon Ford (here and here) sent me a DM so we could discuss our projects more in depth. At the time, I had no idea that I was having my first conversation with the person who would become critically important to the continuation of my writing path.
Life really does give us what we need if we just put ourselves out there a little.
Now, it's time for you to start or continue or finish. Wherever you are in your journey, turn that flame within into a full-blown fucking bonfire. Put on your boxing gloves and tell your insecurities you're showing up to kick asses and take names. Without shame, howl at the moon. Take a chance on you. I promise you won't regret it.