The sunlight danced playfully through the sliver in the curtains, bringing warmth and the trigger that pulled Pet from her peaceful slumber. She smiled as thoughts of the night before popped into her sleepy brain. A remembrance of domination, submission, and the exhaustion of being brought to shuddering climax over and over again.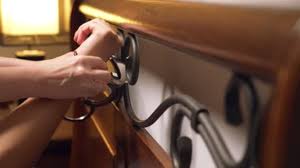 Images flitted through her mind…obedience on her knees before him. The feeling made her squirm beneath the sheets. Something was not quite right.
Her eyes remained closed, but she furrowed her brow. She tried to move again, but something was restricting her. Restraining her. Sleepily, she pulled at one of her extended legs, and felt the tension on her ankle. Pet realized the other ankle was spread wide too, both of them to the far corners of the bed.
As she moved to sit up, she discovered her hands were similarly tethered – flared to either side of her, secured to the head of the bed.
Finally, she cracked open her eyes and looked up at her wrist in confusion. A loop of silk was wrapped around it; loose enough to be comfortable, but snug enough to be inescapable. She struggled, pulling hopelessly at her bonds to no avail. And then she saw him.
Sir was standing in the doorway to the bedroom, smiling at her.
"Yesterday morning, Pet," he said softly, "you were magnificent. Waking me up with your mouth, your hands…fucking me. I thought it might be my turn to return the favor…in my own manner, of course."
He walked toward the bed and sat on the end between her feet. Her body was still hidden beneath the sheet. Sir grasped it with his hand and started to pull slowly, drawing it down the bed to reveal her inch by inch, teasing both of them. His eyes were entranced, fixed on her body as it was revealed to him.
"I have long been an admirer of your breasts…" he said as the sheet teased down her chest.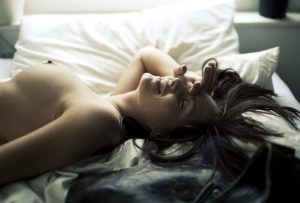 Her breathing quickened and she was suddenly aware of how hard and erect her nipples were. She felt the silken sheet as it pulled slowly across the diamond nubs. Like the soft caress of a lover. They ached as they were exposed.
"…and those nipples," Sir sighed, "like the cherry on a sundae."
Her chest rose and fell rapidly as her breathing became ragged. The fabric was inexorably inched down her body, across her stomach. Sir paused as it reached her hips, just before her spread-open and already soaked pussy would be put on display. She watched him, savoring the moment.
The reveal.
She knew he wanted to see her…and she desperately wanted him to look. She wanted to feel his gaze upon her most intimate spot.
She knew that it belonged to him. It had been his ever since the very first time she submitted to him. It was tattooed with his invisible mark.
"Please…" she whispered, grinding her hips.
"Please?" he asked with a raised eyebrow.
She knew what she did; a slip of the tongue, nothing more.
"Please, Sir," she corrected.
Smiling, he pulled the sheet, exposing her. She couldn't help it, and arched just a little, raised herself to him. Offered herself. To her dismay, he ignored her wanton plea, continuing to pull the sheet down, over her thighs and legs. His eyes devoured every inch of her, every curve and crevice. She felt his gaze, his scrutiny.
It aroused her beyond measure.
Pet knew that he adored her. To him, she was the most exquisite delight, and she reveled in that knowledge. She strove to be worthy of the assessment.
With the sheet removed, his hands drifted to her ankles and started to stroke up her legs. Sir adored her legs. That was his kink, his weakness. Even as a submissive, she knew she had power when she wore her sexy heels. The turn of her leg made him harder faster, brought him to climax a little sooner. Her training in that respect had been very specific…the dances he would make her do, the poses she had to assume. All about the legs.
Of course, that wasn't all that interested him.
As his hands moved up her thighs, he crawled on the bed between her helpless legs. Even without the silk holding her spread-eagled, she wouldn't have been able to close them with Sir in position. That thought just made her hotter. She desperately wanted to be able to wrap her legs around him and draw him into her suddenly aching pussy.
Yet that was obviously not what was on his mind.
Flattening to his stomach, Sir lay between her legs, his mouth millimeters from her clitoris.
He inhaled deeply – she felt it. Her wet flesh magnified the drawing of air past her sensitive spot. She shuddered and moaned. She wanted to push herself to him but knew that wasn't allowed. She was Pet. He was Sir. He would please her when he was ready. To try and force the issue would likely lead to punishment, and while Brat would probably enjoy that, Pet was firmly in the driver's seat right now.
She held as still as she could, trembling in her bonds.
Her hands gripped the silk that bound her wrists to the corners of the bed, preparing herself. A thought skipped through her mind…how? How had she gone from sleepy to rampantly, deliriously horny in such a short space of time? How did he do this to her?
"You may come when you wish, Pet," were the final words spoken before her world exploded.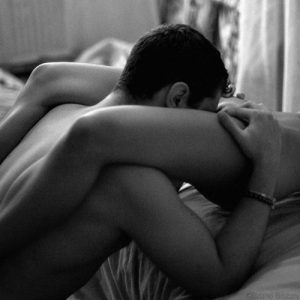 His tongue flicked her clit, his mouth was on her pussy. She felt his teeth gently nibble and tease, playfully biting the lips of her cunt, making her squirm. That tongue that delved deeply into her, tasted her. And then flicked across her clit, its rough surface on her most sensitive spot.
Her orgasm hit her like a train.
She cried out, calling his name as she lifted her hips to him. Shuddering. Writhing.
He didn't stop.
His tongue continued its dance as his hands wandered up her body, finding soft flesh and eager nipples waiting for him. As his fingertips pinched them, they hardened even more, stiffening in his grip. Pet was suddenly aware she was babbling to God yet praying that he wasn't watching her act of carnal pleasure.
Her body started to shake as another orgasm approached. Sir sensed it and at the peak of her moment, just as she was about to come, he squeezed her nipples hard. His teeth nipped at her clit and she exploded in bright light. Pulling deliriously at her bonds, her body struggled to break free. It was too much.
He didn't stop.
His mouth retreated, but almost before she could register the change, she felt his cock slide into her. It penetrated easily; she was so wet.
He started to fuck her, deep and slow. As he did so, she was suddenly aware of his lips on hers. Kissing her deeply.
She could taste herself on him. Sweet and musky.
Within the limits of her bondage, she spread herself underneath him, lifted her hips and fucked her Master back. Showed herself to be his willing and compliant slave. Feeling him harden and stiffen inside her, he grunted.
"Fuckkkkkkkk…." he whispered under his breath and she felt his heat flood her.
It was enough.
The sensation, the submission, the feeling of his come filling her, dripping out of her and down the crack of her ass… She came again, hard. Clenched her pussy around him. Milked him for every last drop.
Finally spent, he relaxed on the bed beside her, reaching up to untie her hand. She was exhausted, but wasted no time untying her other wrist and ankles before curling up beneath his arm, draping her leg across his thighs. Sleep beckoned again for both of them, but this time from the afterglow.
"Thank you, Sir," she sighed.
"Good morning, Pet," he whispered into her hair.
She smiled.