Sir woke to his alarm, feeling slightly groggy but well-rested. He stretched his arms, and in the process, touched Pet's shoulder. She was curled up next to him, her back to him, ass pushing against his leg.
He turned his head to look at her and saw her arms over her head, chained to the bed above her. Her ankles were chained as well, and she had her knees pulled to her chest. The steel collar around her neck matched the chains and glinted in the dim light of the bedroom.
Sir felt his cock stirring beneath the sheet and he was happy he had set his alarm to wake him earlier than usual today. Some play time with Pet was in order before he went about his daily routine. With this in mind, he reached over to his toy and slipped his fingers under her hair at the back of her neck, pulling it over her shoulders to flow down her back. As he did this, his fingers brushed the collar and he felt happy that she was his. Only his, locked for life.
Pet moaned in her sleep and Sir's cock reacted to her soft sounds.
When permission was given to sleep freely, it was Pet who enjoyed waking Sir by either climbing on top of him and sliding his morning erection inside of her or gently taking him deep into her mouth. But last night Brat had come out to play and overnight punishment had been warranted. More than warranted…it was needed to put Brat back in her place.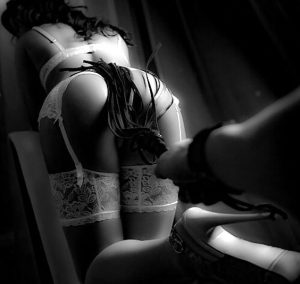 Sir pulled the sheet away from Pet's backside and saw that her ass still exhibited slight red marks from the flogger. Pet had apologized, but Brat continued to talk back and curse, and it was she who had earned this for Pet.
Now Sir ran his hand down Pet's back until he reached her ass where he softly touched the fading red color on her skin. Pet began to wake and her back arched a little at his touch as she stretched and moaned again.
Sir turned on his side and slid one finger between Pet's legs. He could instantly feel that she was wet and ready for him. Leaning on his elbow, he looked over her shoulder and saw her eyelids fluttering as she continued to return from her sound sleep.
"Did you sleep well, my Pet?" he asked.
"Yes, Sir," she answered quietly.
He knew that Pet didn't like it when Brat came out and disappointed him. He also knew she couldn't always hold Brat beneath the surface.
His finger was still between her legs moving slowly, absentmindedly, coating her clit and her lips with the wetness that was now practically dripping out of her cunt. Pet pushed her ass against Sir and began to move her hips back and forth against him. With his other hand, Sir firmly stopped her by placing a hand on her hip and holding her still. He hadn't decided yet if he was going to allow her to come this morning.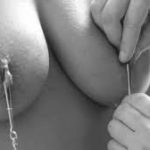 Once he was sure she was going to stay as he indicated, he slipped that hand away from her hip and reached around to the front of Pet where his fingers found the chain that was attached to the nipple clamps. He had been forced to place them on her after Brat had snapped at him for the third time of the night.
Sir pulled on the chain and Pet let out a small squeal. His finger continued to circle slowly and gently, and Pet's breathing became more shallow and desperate.
"Do you have anything to say to me, Pet?"
She started to let out a sigh and stopped herself as she thought better of it.
"Brat is very, very sorry for disappointing you last night, Sir. I promise to behave. You will not see her today."
"Good girl," Sir replied and he pushed her hair aside to kiss the back of her neck.
Involuntarily, Pet pushed herself against him again and he replied with a firm "No!" as he tugged harder on the nipple clamp chain. She obeyed his command and stopped immediately.
Keeping his finger on her pussy, he moved his other hand back to her hip and pushed gently to signal that she should roll onto her knees. Pet knew what position he expected her to take, and without hesitation, she struggled to her knees and lifted her ass in the air. Spreading her legs as wide as she could with her ankles bound and connected by the chain, this was an offering to him. An offering for Sir to take what he wanted. And she wanted it as much as he did.
Her hands dangled in the cuffs from the chain that held them above her. She leaned her head between her arms and settled her forehead on the mattress. Her pussy was pulsing, practically vibrating in anticipation. She wanted his cock, but instead he slid two fingers inside of her and slowly pushed them in and out.
Sir found his place behind her on his knees and kept fucking her with one hand while the other rested on her ass. She felt his hard cock pressing against her and tried to steady herself as she waited for him to enter her, thereby giving her permission to move in unison with him as they fucked.
He placed the head of his cock at the entrance to her pussy, but only teased her with it. She was holding her breath, desperately in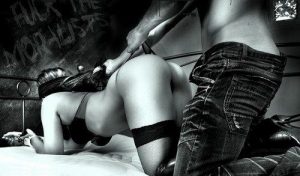 need of feeling him inside her. But before that happened, Sir needed to make one final point that Brat had better be gone for the day, and pulling his hand back from her ass, he let it fall on her with a force that created a loud smacking sound. Pet yelped.
"I am going to fuck you now, Pet," Sir said. "You will NOT come until I do. Clear?"
With her forehead still against the mattress, she replied with a muffled, "Yes, Sir."
Pet was used to having many orgasms, but Sir allowing only one this morning was going to be another part of Brat's punishment.
He removed his fingers from her pussy, pushed the head of his cock inside her, and grasped her hips. She braced herself as best as she could knowing that momentarily she would be feeling all of him. And having Sir inside of her was her favorite feeling in the world.
Pet waited and just when she thought it was never going to happen, he thrust his cock into her soaked pussy with a hard slam that took her breath away. He felt so good that she could sense her juices dripping down her thighs as she moved away from him and against him each time he drove his cock in and out of her. She was moaning loudly now and desperate to come, but she knew what her command was…and she wasn't going to disappoint Sir.
She felt her nipples brushing against the sheet on the mattress and it served to only heighten her need to explode. Sir fucked her over and over and she wanted to live in this moment forever.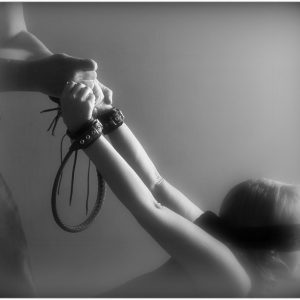 Suddenly, pushing deep inside her, he stopped momentarily, and he leaned across her back as his arm reached up to undo the chain that was holding her hands. As soon as she was free, her arms dropped to the mattress. Sir continued leaning over her as he pulled the key for the cuffs out from underneath his pillow and unlocked her.
Pet tucked her elbows under herself, holding steady as she impatiently waited for Sir to resume fucking her. One of his hands was back on her hips and she soon felt him sliding in and out of her again, slowly this time. His other hand brushed her hair aside and found the back of her collar. He gripped it tightly and pulled, forcing her to arch her back. She was happy he did this. It made her feel even more like she was his. Like she would always be his. Then Sir spoke…
"Rub your clit, Pet. Hard and fast. Now."
Pet did not hesitate to slide her hand underneath herself and between her legs. She spread her legs a little wider apart and shuddered as she touched her wet, throbbing clit. Sir moved to firmly grasp the front of her thigh and fucked her harder and faster. Pet groaned loudly, hoping relief would be imminent.
Sir's cock grew harder inside of her.
"I'm close," he said, indicating that she needed to be ready to come with him. And she was. She was more than ready.
Her finger kept working against her clit and Sir fucked her faster as her nipples continued to brush against the sheet. It was all so tantalizing and terrifically painful at the same time.
"Now, Pet! Come NOW!" Sir commanded as his pull on the collar, forcing her back to arch more.
She felt him push as deep as he ever had inside of her and his grip on her leg dug into her skin. Her pussy exploded around his cock. She cried out, legs shaking uncontrollably, body convulsing from the intense ecstasy Sir had once again caused.
He groaned loudly and kept pushing into her as she felt his hot come fill her.
"Fuck!" Sir called out. Pet kept moaning as she came down from the high.
Together, they collapsed onto the bed. Pet shifted so they could find themselves wrapped in each other's arms. Her ankles were still bound, but she was expecting Sir to unlock those as well as soon as he recovered.
He looked deep into her eyes. "Good morning, Pet."
He was still calling her Pet…
"Good morning…Sir," she said, confused because when they were finished, they usually went back to their everyday life, names included.
His mouth turned up into a slow smile and she wondered what was going on. She looked at him quizzically.
"I'm not done with you yet, Pet…"